What is micro-generation?
Micro-generation is small-scale local electricity production. It uses renewable and alternative energy sources like solar, wind, biomass, hydro, or fuel cells. Individuals, small business owners, farms, organizations, and larger buildings such as apartment buildings and commercial buildings can generate their own power.
How is micro-generation regulated in Alberta?
The provincial Micro-Generation Regulation allows interested Albertans to meet their own electricity needs by generating electricity from renewable or alternative energy sources. As a micro-generator, you can construct micro-generation projects that service adjacent sites owned or leased by you and generate up to five megawatts of electricity.
What does this mean to you?
By generating your own electricity on a small scale, you can reduce your carbon footprint and energy charges on your electricity bill. You can also get a credit from your electricity retailer for every kilowatt-hour (kWh) you generate and don't use. However, you will still have to pay fees like the distribution charge, transmission charge, local access fee, delivery charge and balancing pool allocation on your bill. The cost of delivering energy is largely fixed and, therefore, cannot be reduced by generating your own electricity. You will also pay normal energy prices if you do not produce enough energy from your micro-generating system and have to take from the grid.
What are the types of micro-generation?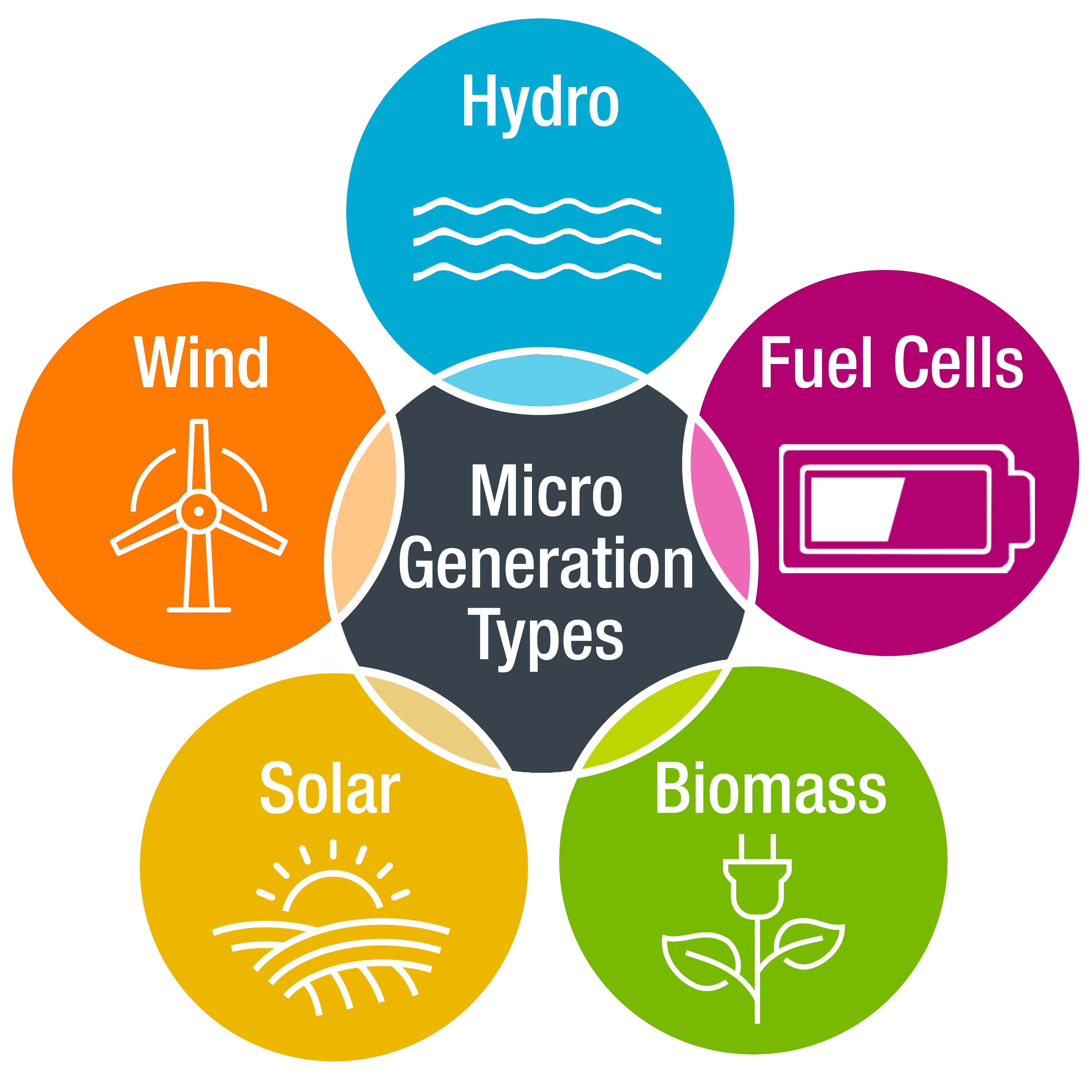 Wind Power
If you live in an open windy place, you might want to invest in this type of micro-generation. The average wind speed at your location will need to be greater than four meters per second wind power to be a viable option.
Hydro Power
This option is suitable for those who live near a water source. A "Run-of-River" system can be used to divert water from the stream or river and redirect it back into the same watercourse. Electricity can also be generated by installing a small dam in a reservoir (lake) and controlling the water flow through the turbine.
Solar PV
Solar power, or Solar Photovoltaic (PV), is one of the most common types of micro-generation. Your solar panels may be installed on your roof if it's south facing or installed as arrays if your roof isn't a viable option. The Residential and Commercial Solar Program offers rebates to homeowners, businesses and non-profits that install solar photovoltaic (PV) systems.
Biomass
This type of micro-generation involves the burning of organic materials, in the form of pellets, to generate electricity.
Fuel Cells
The fuel cell system operates like a furnace, water heater, and electricity provider - all in one compact unit. Fuel cells can produce electricity continuously for as long as fuel and oxygen are supplied.
How do I become a micro-generator?
All consumers who want to become a micro-generator must apply to their distribution company (also known as the wire service provider) to get approval to connect and operate a generating unit. You can find more detailed information on the process and rules on micro-generation in Alberta at the Alberta Utilities Commission (AUC) website, the AUC Micro-Generation Notice Submission Guideline, and in AUC Rule 024: Rules Respecting Micro-Generation. If you have questions on micro-generation projects, please contact your local wire service provider (distributor).
Learn more
To learn more about micro-generation in Alberta, visit Government of Alberta website:
https://www.alberta.ca/micro-generation.aspx