It is always a good idea to check your bill on a regular basis - even if you have automatic withdrawals or e-bills.
Water bills vary from community to community so you should contact your local water utility for more detailed information. However, most water bills in Alberta have two main components: a fixed fee component and a variable amount based on how much water you consume - as measured by a water meter.
Charges on your water bill
Three main charges can make up your water bill: water, wastewater and drainage.
Fixed fees include:
basic monthly water service charges for the cost and maintenance of your water meter, as well as for the costs of reading the meter monthly and issuing your bill;
basic monthly wastewater service charges for the wastewater treatment services which is the cost to treat sanitary sewer water;
basic monthly drainage service charges covering the cost of maintaining the sanitary sewer and the stormwater system; and
stormwater charges for collecting the unmetered water (rainwater or melted snow) that flows off your property into the sewer system.
Variable fees include:
cost of water (or basic service charge) used based on your water consumption. It covers the cost of drawing water from the water source, treating, pumping and delivering the water to your house. The average urban household uses 15.1 cubic metres of water each month.
wastewater charge based on the amount of water consumed by your household each month; and
sanitary drainage charges for the cost of collecting and treating the wastewater on the amount of water consumed by your household each month.
Setting water rates
The municipality where you live owns, operates and maintains the water utility, including the meters and water infrastructure, such as pipes and water treatment plants. As owner and operator, the municipality establishes all customer rates, as well as the policies and procedures for administering these rates.
Your municipal council approves the yearly budget for utilities as part of the operating budget. The municipality forecasts the number of customers, amount of water to be used, and the demand placed on the system from small and large-scale customers. The approved budget determines the amount of revenue the municipality must recover through utility rates.
Billing
Some municipalities contact a private company to provide billing and customer care services for water utility customers. For example, EPCOR issues the water bills for the consumers in Edmonton, and ENMAX provides billing services to the consumers in Calgary. All the fees for water services collected by the contracted companies go directly to the municipalities.
Reasons for unusually high water bills
If your water bill is suddenly higher than it used to be, you need to find the source of the problem. There could be various reasons including increased water consumption, leaking pipes or appliances, or a billing adjustment by your water service provider. Please call your company for more information.
Home
Watering lawn/garden
Using appliances
Leaks
Meter
Billing adjustments
Correcting Remote Read
Meter/ Billing Errors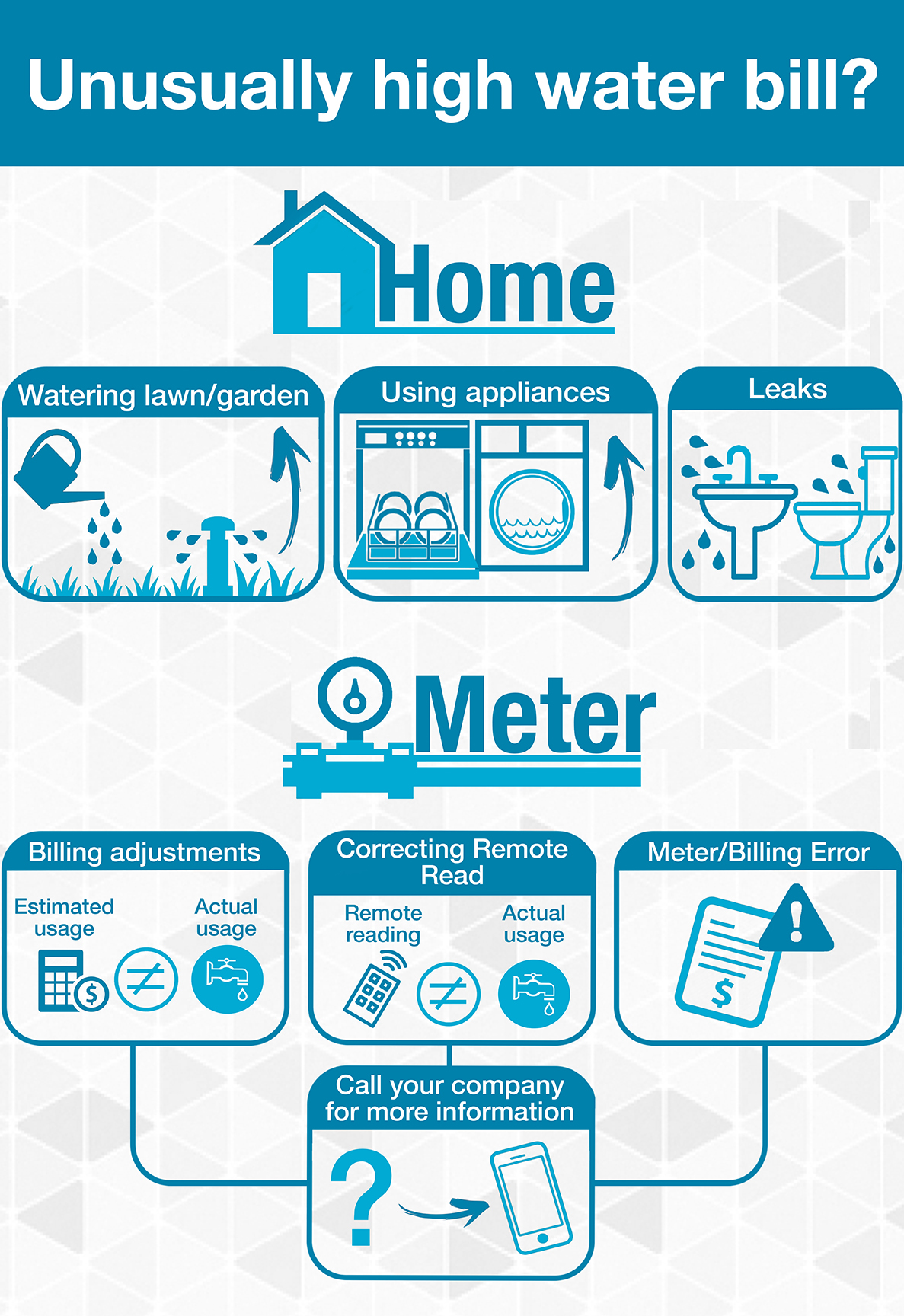 How to reduce water bills
There is a variety of ways to control the variable portion of your utility bill and conserve water.
Only wash with a full load.
Monitor your water meter and check taps and toilets for leaks.
Invest in low-flow faucets, shower heads and toilets.
Time your water use: short showers make a big difference.
Use a rain barrel to collect water for your garden.
Fill the sink to do dishes instead of letting water run.
Know where your water's main shut-off valve is in case of a burst pipe to minimize damage.
When in doubt, call your water provider for advice.