You can switch your energy retailer in three easy steps.
Step 1. Use our Cost Comparison Tool to find the best retailer option for you.
Step 2. Contact your chosen utility retailer.
Step 3. If you are switching to a Competitive retailer, read and understand your new utility contract before agreeing to it verbally or electronically.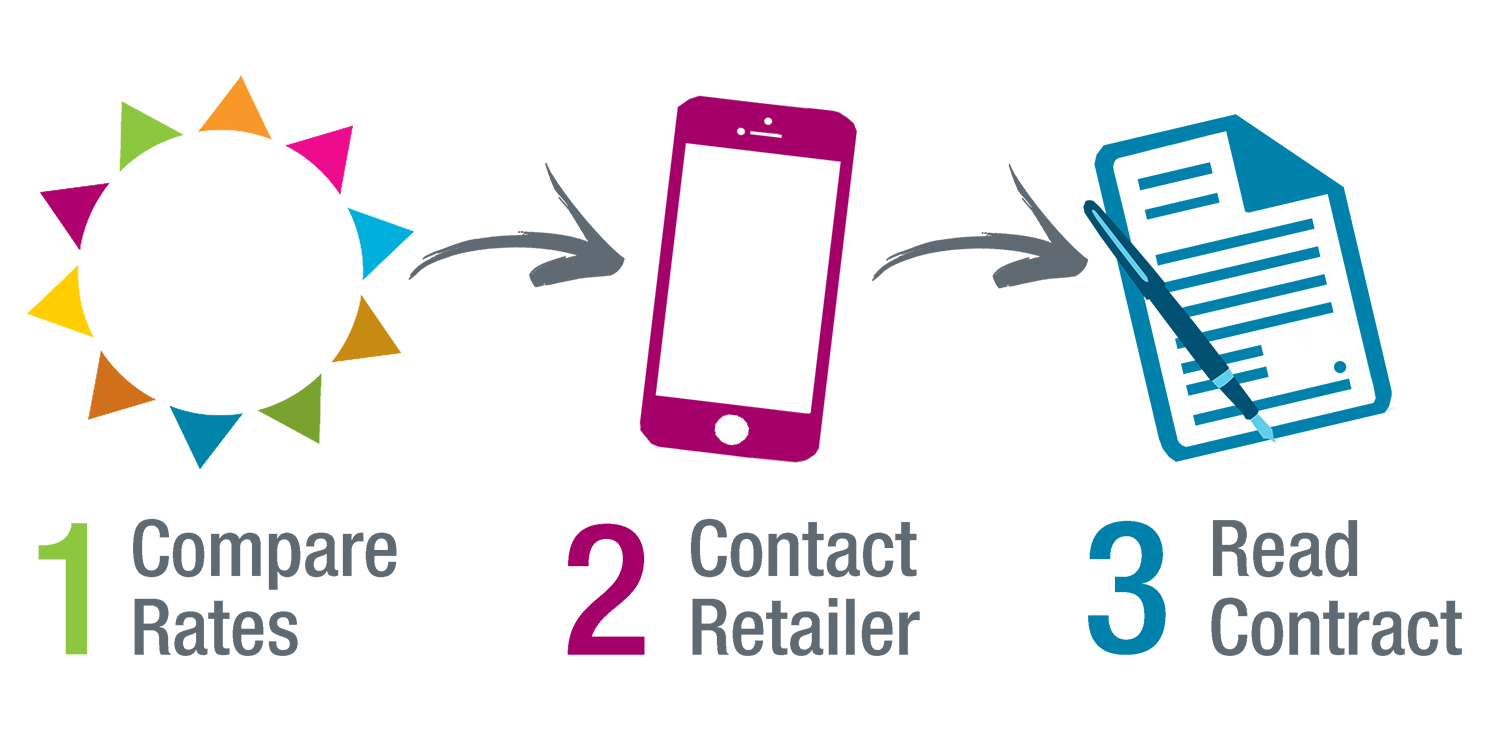 Find utility options
Consider what factors are most important to you. Are you looking for better rates, specific plan features, a single bill for natural gas and electricity, better customer service? The Cost Comparison Tool shows you the available plans in your area and may help you narrow down which one works best for you.
Keep in mind that consumption rates are only one component of your energy bill. There are typically several additional fees associated with a utility plan: administration fees, distribution charges and local access fees. Check the monthly average bill amounts in the Cost Comparison Tool to see what a complete bill looks like.
If you are choosing to switch because of a special offer by a retailer (free months, special rates, physical rewards like thermostats), be sure you understand the specifics of the deal and the associated charges.
Retailer choices - regulated or competitive
You can select a regulated or a competitive retailer to provide your utility service. Regulated Rate Option retailers offer only a regulated rate plan and never require a contract. Competitive retailers offer fixed or variable rate plans (or a combination) and will always have a contract term. You can learn about the pros and cons of switching to a regulated or competitive retailer by visiting our Choosing How You Buy Your Energy page.
Contacting your chosen energy retailer
Once you select a retailer and plan type, contact the retailer directly to sign up over the phone or online on their website. You can find a link to the retailer's contact information on their rate plan pages in the Cost Comparison Tool or click on a retailer's icon on the Retailers and Distributors page. Some retailers require internet access and an email account in order to set up service.
Information needed by retailers
Most retailers will need:
Your full name and contact information (phone number/email)
Service address
Service start date
Driver's license or other piece of government-issued ID.
Some retailers will require direct withdrawal from a bank account or credit card as a method of payment in order to set up your account.
Ending services with current retailer
No. You do not have to tell your current energy retailer that you are switching to the new company. Your new retailer will report the switch on your behalf and let your current retailer know the switch date.
Information to obtain before signing a contract
Make sure you read and understand any contract before agreeing to it. You can agree to the contract terms online, via a telephone conversation, or by signing the contract at any retailer's kiosks.
New retailers may require a deposit to set up service. Ask your retailer if there are options to avoid a deposit. Before signing a contract, also ask if you will be charged any penalties if you end your contract before the term is complete.
Credit history checks by a retailer
Your new retailer may require a credit check and can refuse to set up service if the results do not meet their standards. If that is the case, the contract will not be set up, and you will remain with your previous retailer.
Cancelling contract services
If you decide you no longer want to set up service with a competitive retailer, you have a 'cooling-off period' of ten calendar days to change your mind and cancel the contract for any reason without a penalty. Your last/current retailer will continue providing service to your house.
Service transfer and billing
It can take 10 to 90 calendar days for a competitive retailer to complete a retailer switch. When changing from a competitive to a regulated provider, the transfer may take 10 to 15 calendar days.
Regardless of what retailer you choose, your utility distribution company will continue to supply energy to your home.
Call your new retailer after the service start date to confirm they picked you up for billing. Then call the old retailer to ensure they stopped billing the date before.
If you do not receive a bill from your new retailer within a month of switching, contact your retailer and ensure your account is still set up. Failure to maintain an active account may result in large catch-up bills or service disconnection.
Final billing from previous energy retailer
You are responsible for paying your previous retailer until the date the retailer switch occurs. You cannot transfer payments and credits between retailers.
Watch for a final bill from your previous retailer to clear up any amounts owing. If you do not receive a final bill within a month of your account switching over, contact your previous retailer. If your account closes with a credit balance, your previous retailer will refund that balance to you directly.
How we can help
The Utilities Consumer Advocate's mediation officers can share advice on comparing utility rates, as well as provide information on utility issues and help settle disputes with your provider. Contact us toll-free at 310-4822, email at ucahelps@gov.ab.ca, or visit the Contact a Mediation Officer page for more information.