Did you know? Canada is the fifth largest supplier of natural gas in the world and Alberta produces the majority of Canada's supply.

Learn about Alberta's natural gas market and what your options are for buying natural gas from Regulated or Competitive Retailers.
How the Natural Gas Market Works
Natural gas is used by residential and commercial customers mainly for space heating is also used for:
Power generation to produce electricity
Feedstock to create petrochemical products
Steam creation to enhance heavy oil production
Fuel in fleet vehicles
Energy supply to other markets beyond the province including Eastern Canada and the United States
Supply and Demand
Alberta's gas prices are determined by supply and demand and are influenced by market conditions and prices throughout Alberta and North America. Some factors affecting natural gas prices include:
Weather conditions
Storage inventory levels
Gas drilling levels and production
Natural gas imports (from the United States)
Economic conditions
Natural Gas 101
Find out how natural gas gets from the ground to your home.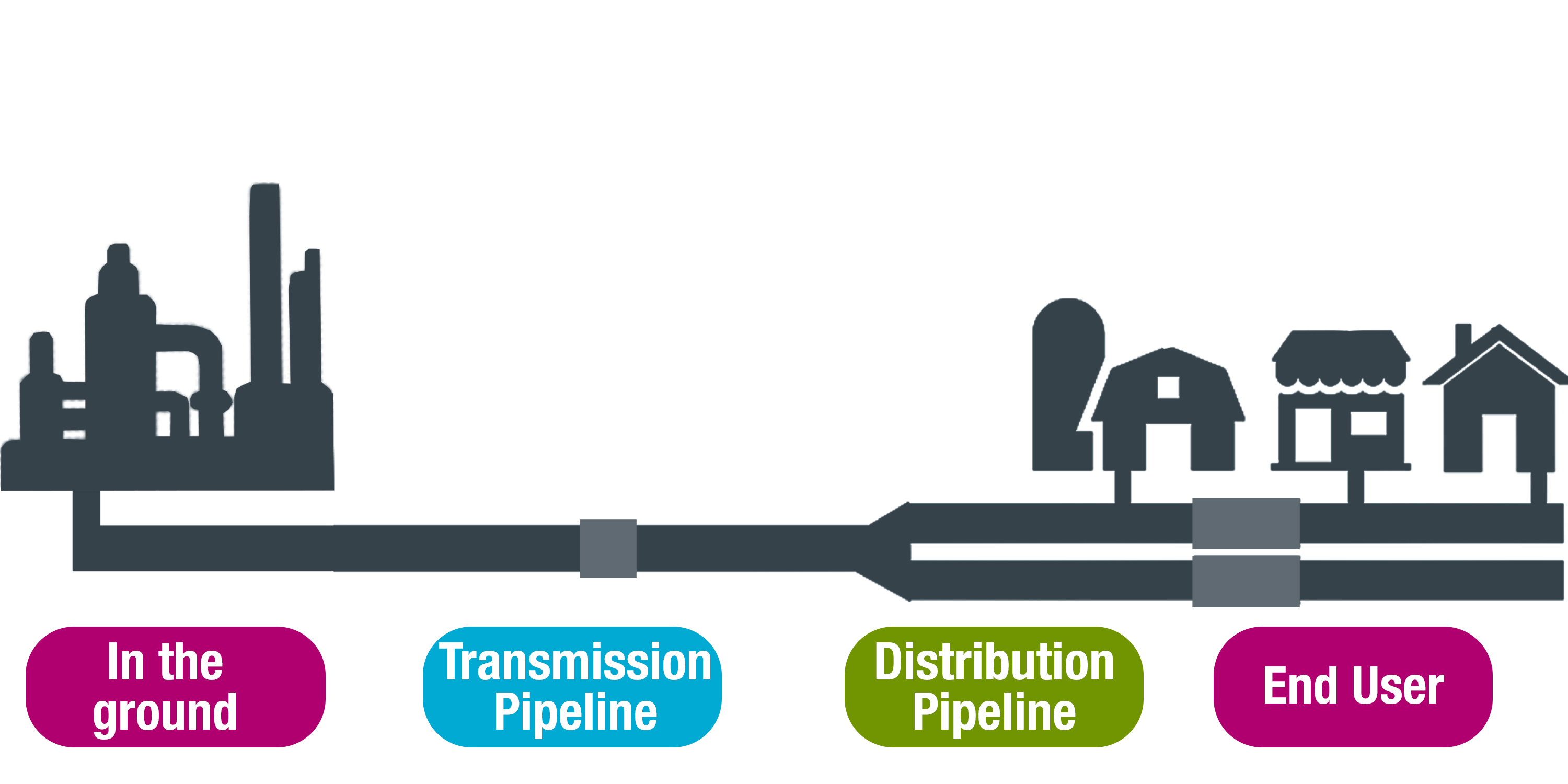 In the Ground (Production)
Energy exploration companies tap into gas reservoirs and if natural gas is found in commercial quantities, well equipment and gathering lines are installed to produce gas. These facilities measure the gas and remove water and other impurities.
Processing plants, located near the field or further downstream, extract any valuable liquids associated with natural gas. These natural gas liquids include propane, butane, ethane and other condensates. The gas flows through underground gathering pipelines that transport it to a transmission pipeline.
Transmission Pipelines
High-pressure, high-capacity transmission pipelines act as "toll highways" to transport natural gas from the processing plant to major markets. In Alberta, most of the gas produced flows into the NOVA Gas Transmission system (the Alberta portion of the TransCanada pipeline system) and ATCO Gas Pipeline. The Alliance Pipeline system also transports natural gas, along with natural gas liquids, from Northwest Alberta and British Columbia to the Chicago, United States market area.
Power generators
Industrial customers
Gas utility companies with gas distribution systems
Interprovincial and export pipelines at the Alberta border
Distribution Pipelines
Low-pressure, local distribution pipeline systems connect to high-pressure gas transmission pipelines. From there, natural gas is transported to your house or business' gas meter through your natural gas delivery company. The Alberta Utilities Commission fully regulates distribution systems.
Two major investor-owned distribution companies service the majority of Albertans: ATCO Gas and AltaGas Utilities Inc. The remaining natural gas distributors are:
Natural gas co-operatives, regulated by their elected board members
Municipally owned utilities, regulated by their municipal councils
County-owned and First Nations' gas utilities
End User (Retail)
Regulated Retailers and Competitive Retailers buy gas from marketers and producers and sell the gas to you at either regulated rates or at rates determined by a contract between you and the retailer. Retailers also charge non-energy rates to recover the costs of billing and providing customer service.
Choices for buying natural gas
You have two options when buying natural gas. You can choose to lock in your natural gas rates for a specified term by signing one of many contract packages offered by Competitive Retailers, or you can receive gas from a Regulated Retailer if you don't want to commit to a contract.
If you need help understanding your options and deciding what energy product is best for you, use the Cost Comparison Tool or contact the Utilities Consumer Advocate mediation team.
A brief introduction to the history of natural gas in Alberta
Source: YourAlberta YouTube Channel