A rate class is a group of customers who use a prescribed amount of energy for a similar purpose. For example, households in residential neighbourhoods or businesses in commercial buildings. Utility rates should be proportionate to the costs of providing service to that group of customers. In addition to overall consumption in kilowatt-hours (kWh), non-residential customers' rates may include demand costs in kilowatts (kW).
Rate classes in Alberta
While utility providers may have different classifications and thresholds, generally, rate classes are established for:
Residential Service
Small General/Commercial Service
Medium General/Commercial Service
Large General/Commercial Service
Oilfield/Oil and Gas Service
Farm Service
Irrigation Service
Street Lighting Service
How to find out a rate class of your business site
To find your rate class, check your utility bill. It is usually indicated in your account information section or near your Site ID line, as illustrated in this example.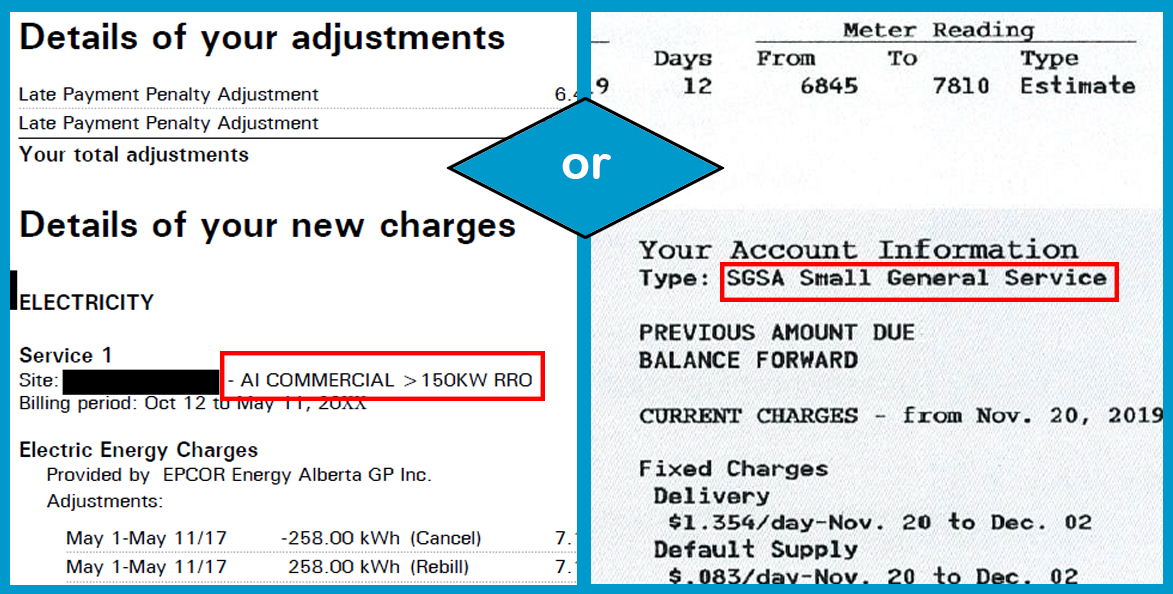 Rate class description and requirements
Each utility distributor has a list of its rates and charges. It is a public document that lists the utility's customer classes, rates, and service charges. The Alberta Utilities Commission (AUC) reviews and approves these rates before they are used for billing consumers. Check your distribution company's website or the AUC website for "Distribution Tariffs" or "Rate Schedules."
Changing your rate class
In some instances, your rate class can change. For example, a utility provider may install a commercial meter on your residential property for your home-based business and change your rate class from Residential to Commercial. If your business operation requires power at a higher demand, your utility provider might switch your site to a higher rate class, as shown in the following example.
ABC Auto Body was registered under the D300 (Medium Commercial) rate class with Enmax. According to the utility provider's distribution tariff, to stay in this rate class, the site's usage consumption should be equal to or greater than 5,000 kWh per month for at least six of the last 12 invoice periods, provided a peak demand greater than 150 kVA was not registered twice in the previous 365 days. Even though the customer had an acceptable kWh consumption, the shop's power demand increased and registered at 160.32 kVA in August and 160.68 kVA in October. The site has exceeded the requirements for rate class D300 (Medium Commercial), so as a result, the distributor assigned rate class D310 (Large Commercial-Secondary) to this site in November.
If you have questions about your rate class, please contact your utility provider or call the UCA Mediation Team at 310-4822.